Passion for excellence and making positive change
 
ATSABE WASHED
Roasters notes
Producer: Mariano 'Ameta' Dacosta Alves
Country: Timor-Leste (East Timor)
Region: Atsabe, Ermera Municipality
Process: Washed
Varietals: Hibrido de Timor, Moka, Arabica Typica
Altitude: 1700-1800MASL
Fermentation: 15-18 hours

Drying: 3 weeks on raised beds, before being moved to fully shade dried for 3 weeks in Railaco village, at much lower altitudes.
Tasting Notes
Vanilla, almonds, white grape, milk chocolate. A delicate coffee, creamy mouthfeel.
As a roaster, this coffee embodies the classic style of a Timorese washed coffee. Really delicate, sweet, buttery mouthfeel. It shows its true self when roasted medium and brewed into an espresso, long black, pour-over or drip coffee. Suitable for any milk coffees, especially plant-based milks. 
*LIMITED STOCK*
Like the Fatubessi Natural, this one will sell out fast!  
ABOUT AMETA
Ask anyone in the capital city of Dili who loves coffee and they'll immediately mention Mariano Dacosta Alves - or known to many as 'Ameta'. He is a humble young coffee entrepreneur with a big smile who is doing great things for his country. Ameta represents the new generation of coffee producers in Timor-Leste.
Ameta had a very difficult start to life when he was left to fend for himself after his mother died and his father was sent to prison. With patience and absolute determination, he changed his life and the lives of coffee farmers in his village. In 2014 he landed a barista job at a local cafe in Dili, Cafe Letefoho, learning for the first time about specialty coffee. It was here that he started to dream of his own coffee business, using his family's coffee and from the surrounding community. In 2017 Café Organiku Atsabe was born.  
You can read more about Ameta's incredible story here. We absolutely love his story and his coffee. We believe you will too.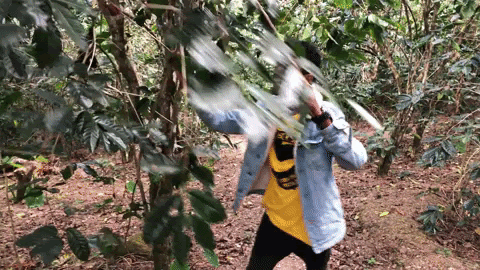 Ameta showing us a tall coffee tree in need of pruning
A powerful 

partnership.

 

In 2017 Matt Graylee of Raw Material - a green coffee social enterprise - joined forces with Ameta and the community of producers in Atsabe, Ermera Municipality. 
Immediately after that, a coffee from Ameta won first place at the 2018 Timor-Leste Coffee Quality Competition, after a week of blind cupping by international judges that included Numero Uno's Gina di Brita. His coffee set a new record for the highest score in the history of the national coffee competition. Last year in the 2019 coffee season, Ameta and the Atsabe community won 2nd, 3rd, 5th, and 8th place.
It is thanks to Raw Material that we're able to have two of Ameta's champion coffees here with us in Sydney today: Atsabe Washed and Parami Honey. This is despite all the challenges that the sector is facing from coronavirus lockdowns in Timor-Leste, Australia and NZ.
Who is Raw Material?
Raw Material aims to help improve the total value and profitability of Timor-Leste's coffee sector. Their purpose is to ensure that coffee provides stable and sustainable incomes for producers whose livelihoods depend on it. They support the production, processing, exporting and selling of coffee to roasters. 100% of the profit generated goes to producers, directly through payments for coffee and through community-level investments.
The Atsabe processing centre
In 2018 RM built a custom wet mill and processing centre in Timor Leste, in Atsabe, Ermera. All designed in-house, the Atsabe processing centre uses gravity to move coffee through the stages; no double handling, no unnecessary machinery. They drew upon experience working in many other coffee-producing countries to combine elements that would most likely improve Ermera's coffee quality given the unique set of challenges facing the region. Each section of the plan uses materials that are local and readily available. 
They collaborated with the Market Development Facility and Asian Development Bank to produce a custom 11-part video guide outlining coffee production best practices in both Tetun and English.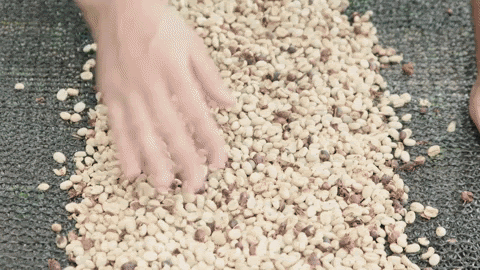 Ameta and Miguel explaining parchment grades
You Need to Know About Timor-Leste
Timor-Leste is an island country that is making waves in specialty coffee.
Recently in just a few short years, Timor-Leste has become the gathering place for specialty coffee growers, q-graders, judges, roasters, baristas and exporters, as well as international agencies - a community working together to build an exceptional coffee sector - as well attracting those curious to see and taste the original Hibrido de Timor varietal. Some of them include renowned international coffee specialists like Andrew Hetzel, Coffee Strategies who invited us to join Timor-Leste's second Coffee Quality Competition back in 2017.
Here are few background points about Timor-Leste
(Source Raw Material)
Timor-Leste is a small, young nation.
In 2002 Timor-Leste became the first new independent state of the 21st century. This followed 25 years of conflict that claimed 200,000 lives and destroyed all infrastructure. Most lived in extreme poverty at this time. Today the population is 1.3 million and many improvements have been made.
Oil has been the nation's biggest earner, but production is now winding down:
Timor-Leste is the country most reliant on oil for income. 

Current oil production will end within 3 years. 

The petroleum fund will likely run out in 11-15 years.
Coffee is the most important crop, and with the end of oil income, improving the coffee sector is of critical importance:
Coffee is the second-highest earner for the country after oil. 

37% of households depend on coffee for income.

Productivity is extremely low. Profitability is both low and volatile as almost all coffee is sold in the commodity market for a discounted C price.